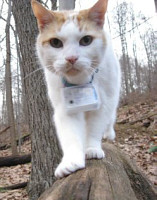 [from my GeekDad post]
OK, so he's not a mutant, but he's no ordinary cat. Mr. Lee has been outfitted with his very own CatCam, designed and built by his owner, J. Perthold, from a keychain digital camera and some custom circuitry. The CatCam provides a peek into the daily adventures of Mr. Lee as he prowls the neighborhood.
The success of the original Mr. Lee CatCam has spawned more feline tech accessories, like the CatTrack GPS tracker and the forthcoming CatCam Live, a CatCam with integrated antenna for broadcasting live TV feeds. Each has detailed (but accessible) technical specifications and build notes; it's obvious that Perthold is a real enthusiast.