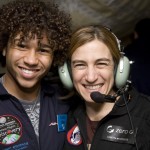 [I'm going to start posting some of my GeekDad articles over here, so you'll know when new ones are available. Let me know if this is unnecessary duplication.]
I had the pleasure of meeting Loretta Hidalgo Whitesides at a SEDS UCSD talk the other day. It quickly became obvious that she's one of Our People, and a successful one at that. From the GeekDad interview article (my first ever):
Loretta Hidalgo Whitesides sees the future of space in the eyes of students. Not as the "coveted 18-24 demographic", but as leaders of the new space industry. To her, space-interested science and engineering students in high school and college right now are "one in a million," and she wants them to train to be the next Buzz Aldrin, Sally Ride, Burt Rutan, or Elon Musk.

She should know. As an astrobiologist, Virgin Galactic advisor, Wired blogger, and Zero G flight director, she's seen her share of the Right Stuff. She's followed James Cameron to the bottom of the ocean and led 70,000 people to a party at NASA. Space is personal for her, too: she and her husband, National Space Society director George T. Whitesides, will honeymoon on one of the first Virgin Galactic suborbital flights.
Check out the rest of the interview and let me know if I should hang up my press hat. ;)