From "Jackson dies, almost takes internet with him" at CNN last week: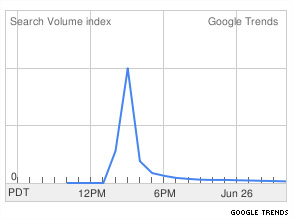 How many people does it take to break the Internet? On June 25, we found out it's just one — if that one is Michael Jackson. The biggest showbiz story of the year saw the troubled star take a good slice of the Internet with him, as the ripples caused by the news of his death swept around the globe . . .
. . . Twitter crashed as users saw multiple "fail whales" — the illustrations the site uses as error messages — user FoieGrasie posting, "Irony: The protesters in Iran using Twitter as com are unable to get online because of all the posts of 'Michael Jackson RIP.' Well done."
Posted by Deb in Cosmetically Enhanced Vertebrates, Journalism, News/Media, Oddly Enough, Technology, You have got to be kidding on June 29th, 2009 Edit this page's grammar and spelling with Emend.