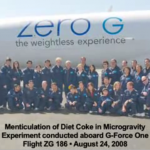 [from my GeekDad post]
Robert Woodhead, self-described Mad Overlord and all-around geek, has posted an amazing amount of detail from his recent experiment in seeing how the Diet Coke & Mentos reaction works in microgravity. It's a modification of the now-standard geyser-producing demonstration, but with a twist: performing the trick on a Zero G flight and recording it on a high-speed camera. The Youtube video is great, but the expanded description is even better.
Continue reading "Mentos + Diet Coke + Zero G = Best. Experiment. Ever."
Posted by Chris in Geekdad, Science, Space on September 3rd, 2008 Edit this page's grammar and spelling with Emend.